Museum of Ventura County Research Library
Museum of Ventura County Research Library
The Museum of Ventura County Research Library's collection includes more than 140,000 items relating to Ventura County history. The Research Library is open to the public, however the materials do not circulate.
100 E. Main Street Ventura, CA 93001
805-653-0323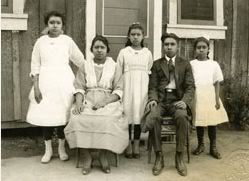 Sanchez children pose in front of their home in Fillmore, CA. c. 1921
Primary Sources Online
Oral histories and artifacts pertaining to the Bracero Program, 1942-1964.
Calisphere's California Cultures - Hispanic Americans
Digital exhibitions with lesson plans that follow the history of Hispanic Americans from Spanish colonization to the present.
Farmworker Movement Documentation Project
Images, music, oral histories, poetry, manuscripts, and essays written by farmworker strikers and volunteers from 1962-1993.
Collection of oral histories with an emphasis on the El Paso-Ciudad Juarez region and the U.S.-Mexico border.
An interactive website that combines historical information, audio/visual materials, timelines, and primary and secondary sources to tell the stories of Latina leaders.
Collection of oral histories from Mexican American social activists.
Collection of oral histories that reflect the history of the Tejano community.
Virtual Oral/Aural History Archive
Collection of Mexican American and Chicana/o oral histories.
VOCES: The U.S. Latino & Latina WWII Oral History Project
An oral history project that documents the contributions of Latina/os in WWII, the Korean War, and Vietnam War.
Last Update: 03 Aug 10:45