Also on Display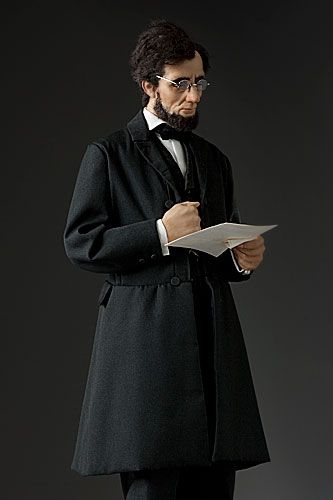 Credit line: Historical Figures Foundation
On loan from the Museum of Ventura County are five Civil War historical figures from the George Stuart Collection of Historical Figures. Over the last fifty years George Stuart has created more than four hundred figures that capture some of the most famous and infamous people of history. Visit the Museum of Ventura County or click here to learn more about the Historical Figures of George Stuart.
Exhibition Preview
Take a brief walkthrough of the upcoming "Lincoln: The Constitution and the Civil War." Coming to the John Spoor Broome Library at CSU Channel Islands in October 2012.
The Exhibition
Credit Line: Library of Congress Prints and Photographs Division Washington, D.C. 20540 USA, [Abraham Lincoln, head-and-shoulders portrait, facing front], Gardner, Alexander, 1821-1882, photographer.
Lincoln: the Constitution and the Civil War, a traveling exhibition for libraries, was organized by the National Constitution Center and the American Library Association Public Programs Office. The traveling exhibition has been made possible by a major grant from the National Endowment for the Humanities. Lincoln: the Constitution and the Civil War is based on an exhibition of the same name developed by the National Constitution Center.
The election of the nation's first African-American president and the 150th anniversary of the Confederate forces firing on Fort Sumter, has led to a resurgence of interest in both Lincoln, the man, and the actions of his presidency. In acknowledgement of these events California State University, Channel Islands (CI) is honored to be hosting "Lincoln: The Constitution and the Civil War," a Civil War Sesquicentennial National Traveling Exhibition, this fall. This exhibit will be a great opportunity not only for K-12 teachers and students, but also the entire Ventura County community to explore and learn about one of the most important events in United States history. The exhibition will run from October 10th- November 30th and be held inside the John Spoor Broome Library located on the CI campus. During the exhibition period the library will host events such as educational film screenings, scholarly lectures on Civil War topics, and Civil War speech readings.
The "Lincoln: The Constitution and the Civil War" exhibit encourages visitors to understand the Civil War not only in traditional terms as a war about slavery and the economy, but also a test of the United States Constitution. By providing a variety of information and posing provocative questions of visitors, the exhibit enables visitors to consider options through Lincoln's eyes and reflect on lasting effects of the Civil War that still influence Americans today. The exhibit will include a variety of texts from Lincoln in order to enable guests to develop their own perspectives. The exhibit is organized into six different sections for visitors to explore. The sections are presented chronologically as follows: Introduction, Oath of Office, Divided, Bound, Dissent, and Legacy.
Please feel free to explore the following tabs in order to better prepare for a future visit.
Exhibit Information 2011© American Library Association
Last Update: 28 Mar 10:46