Scholarly vs. Peer-reviewed
Scholarly journals contain articles written by, and addressed to, experts in a discipline. Scholarly journals present the research of experts in a field, although these journals also often carry opinion pieces or even advertisements unique to the field addressed by the journal. Publication cycles vary for scholarly journals, ranging from yearly to monthly but most frequently they are published bimonthly (every other month) or quarterly.

Peer-reviewed journals (also called refereed or juried journals) send submitted articles to one or more experts for review before deciding to publish them. This review process helps ensure that published articles reflect solid scholarship in a field. Most often, the experts reviewing an article make critical comments on the text, comments that the author must incorporate into the article before its publication.

While not all scholarly journals are peer-reviewed, it is usually safe to assume that a peer-reviewed journal is also scholarly.
Is it peer-reviewed?
Several resources are available to help CSUCI library users identify peer-reviewed articles. Many of the journals indexed in specialized databases are scholarly but those databases do not tell you whether a journal is peer reviewed or not. To find out if a journal is peer reviewed, ask at the Reference Desk for Ulrich's International Periodicals Directory. Volume 5 of Ulrich's has a list of "Refereed Serials." While this list is not exhaustive, it is the most complete list available.
If you cannot find the publication listed in Ulrich's International Periodicals Directory, you should go the the publication's website. Often times you can determine if a journal is peer-reviewed by looking at their submission process on their website.
ESRM Databases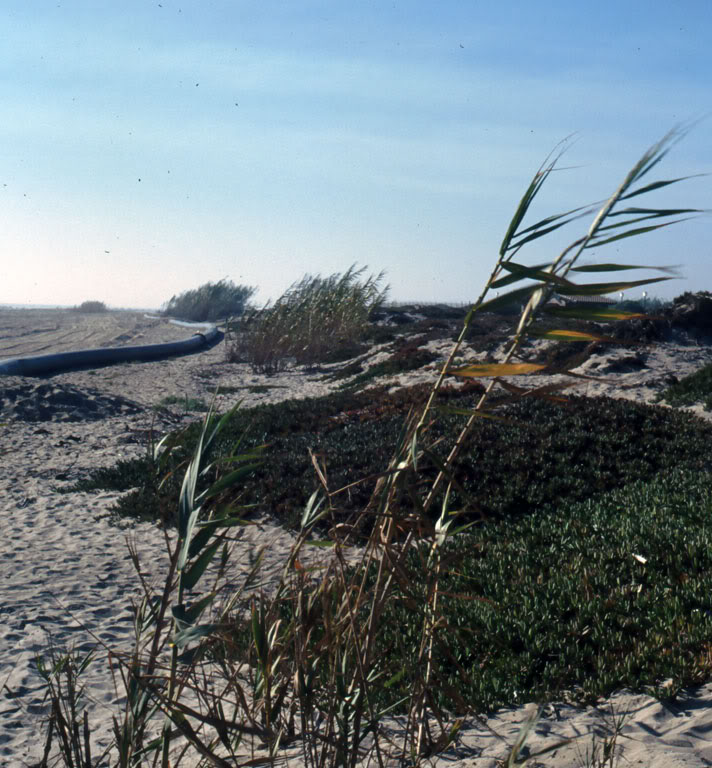 Credit Line: Bioview, CSUCI Biology Image Database, [Arundo donax, Ventura Beach near harbor], Sean Anderson, photographer, 1999.
Academic SearchTM Premier contains indexing and abstracts for more than 8,300 journals, with full text for more than 4,500 of those titles. This database contains coverage across the disciplines including biology, chemistry, engineering, physics, psychology, history, religion & theology, and many more.
Contains life sciences and biomedical research covering pre-clinical and experimental research, methods and instrumentation and animal studies from 1926 to the present.
This database is a comprehensive collection of dissertations and theses on humanities and social sciences.
The GeoRef database, established by the American Geosciences Institute (AGI) in 1966, provides access to the most comprehensive geoscience literature of the world. GeoRef contains millions of references to geoscience maps, serial, and non-serial literature. The database includes references to all publications of the U.S. Geological Survey. Master's theses and doctoral dissertations from US and Canadian universities are also covered. Coverage for North American resources starts in 1669, whereas worldwide coverage starts in 1933. (ProQuest - GeoRef Site)
GreenFILE offers well-researched information covering all aspects of human impact to the environment. Its collection of scholarly, government and general-interest titles includes content on global warming, green building, pollution, sustainable agriculture, renewable energy, recycling, and more. The database provides indexing and abstracts for more than 384,000 records, as well as Open Access full text for more than 4,700 records.
JSTOR offers a high-quality, interdisciplinary archive that has over one thousand leading academic journals across the humanities, social sciences, and sciences. JSTOR is primarily a historical archive and does not include items published within the last 3-5 years. In 2011, JSTOR will add some current articles. Of particular interest to the ESRM community: As of Fall 2017 JSTOR has established an indexed segment on Sustainability, including content from ".....the Biological Sciences, Business & Economics, Ecology, Environmental Sciences, Law, Public Health, Urban Studies, and many other disciplines."
The world's most highly cited interdisciplinary science journal that has been published since 1869.
Search tool for open access journals and journals in special programs for developing countries and features 13,000 scientific journals from the Directory of Open Access Journals.
ScienceDirect is an information source for scientific, technical, and medical research. The database features more than 10 million articles.
Science has the largest paid circulation for a peer-reviewed general-science journal. Originally funded in 1880 by Thomas Edison it is published by the American Association for the Advancement of Science, the world's largest general science society.
SpringerLink is a full-text database for journals and books published by Springer. The database also features an entire section on Earth and Environmental Science.
Wiley Online Library features access to over 4 million articles and 10,000 online books, including Earth and environmental sciences.
Last Update: 30 Sep 10:57