Scholarly vs. Peer-reviewed
Scholarly journals contain articles written by, and addressed to, experts in a discipline. Scholarly journals present the research of experts in a field, although these journals also often carry opinion pieces or even advertisements unique to the field addressed by the journal. Publication cycles vary for scholarly journals, ranging from yearly to monthly but most frequently they are published bimonthly (every other month) or quarterly.

Peer-reviewed journals (also called refereed or juried journals) send submitted articles to one or more experts for review before deciding to publish them. This review process helps ensure that published articles reflect solid scholarship in a field. Most often, the experts reviewing an article make critical comments on the text, comments that the author must incorporate into the article before its publication.

While not all scholarly journals are peer-reviewed, it is usually safe to assume that a peer-reviewed journal is also scholarly.
Is it peer-reviewed?
Several resources are available to help CSUCI library users identify peer-reviewed articles. Many of the journals indexed in specialized databases are scholarly but those databases do not tell you whether a journal is peer reviewed or not. To find out if a journal is peer reviewed, ask at the Reference Desk for Ulrich's International Periodicals Directory. Volume 5 of Ulrich's has a list of "Refereed Serials." While this list is not exhaustive, it is the most complete list available.
If you cannot find the publication listed in Ulrich's International Periodicals Directory, you should go the the publication's website. Often times you can determine if a journal is peer-reviewed by looking at their submission process on their website.
What is a primary source?
"Primary sources are original records created at the time historical events occurred or well after events in the form of memoirs and oral histories. Primary sources may include letters, manuscripts, diaries, journals, newspapers, speeches, interviews, memoirs, documents produced by government agencies such as Congress or the Office of the President, photographs, audio recordings, moving pictures or video recordings, research data, and objects or artifacts such as works of art or ancient roads, buildings, tools, and weapons. These sources serve as the raw material to interpret the past, and when they are used along with previous interpretations by historians, they provide the resources necessary for historical research."

(Finding Primary Sources on the Web, ALA-RUSA, 2008)
Communication Databases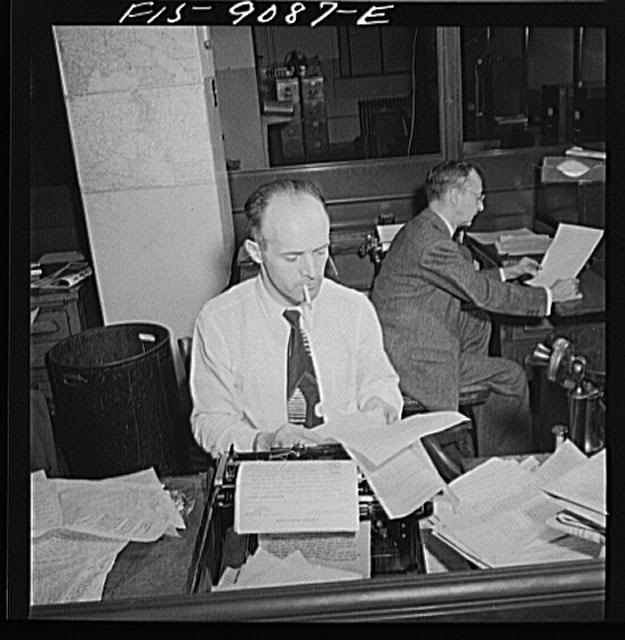 Library of Congress Prints and Photographs Division Washington, D.C. 20540, [New York, New York. New York Times newspaper syndicate. Foreign newspapers and syndicates buy privilege of using Times news. The paper has so many correspondents all over the world, that often they scoop Associated Press and United Press. Swiss correspondent in foreground, Mexican in back.], Collins, Marjory, photographer, 1942.
Academic Search Premier contains journal, magazine and newspaper articles on a broad range of topics
Communication and Mass Media Complete
Communication and Mass Media Complete contains articles from the fields of Communication and Mass Media.
Contains various business and technology focused journals, including those geared towards Marketing and Public Relations.
GenderWatch contains scholarly journals, magazines, newspapers, newsletters, regional publications and books that focus on gender issues.
SAGE offers a wide variety of journals, including the Communications focused Media, Society, and Culture.
Newspaper Databases
These are the newpaper databases available through the John Spoor Broome library that contain current news.
Last Update: 24 Jul 12:38