Chicana/o Studies ARCHIVED
Chicana/o Studies Articles
"Viva La Raza" (2005) by Favianna Rodriguez & Jesus Barraza
Academic Search Premier is an excellent source of scholarly journals in all academic disciplines that includes over 8,000 journals.
Aztlan: A Journal of Chicano Studies (Journal)
An interdisciplinary, refereed journal, Aztlán focuses on scholarly essays in the humanities, social sciences, and arts, and seeks ways to bring Chicano studies into critical dialogue with Latino, ethnic, American, and global studies.
Latino Studies (Journal)
Latino Studies is an international, interdisciplinary, peer-reviewed journal aimed at advancing Latino/a scholarship, research, and dialogue.
Voces: A Journal of Chicana/Latina Studies (Journal)
A journal published by Mujeres Activas en Letras y Cambio Social (MALCS), an organization of Chicanas/Latinas and Native American women working in academia and the community to support Chicana/Latina and Native American women's issues
Ethnic NewsWatch is an interdisciplinary, bilingual (English and Spanish) and comprehensive full text database of the newspapers, magazines and journals of the ethnic, minority and native press.
GenderWatch covers historical perspectives on the evolution of the women's movement, men's studies, the transgender community, and gender roles over the years. Publications include scholarly journals, magazines, newspapers, NGO, government and special reports from the 1970s to present.
JSTOR offers a high-quality, interdisciplinary archive to support scholarship and teaching. It includes archives of over one thousand leading academic journals across the humanities, social sciences, and sciences, as well as select monographs and other materials valuable for academic work. JSTOR is a historical archive and does not include items published within the last 3-5 years.
Includes prose, poetry, and drama composed by women writing in Mexico, Central America, and South America.
Includes poetry, fiction, and plays written in English and Spanish by hundreds of Chicano, Cuban, Puerto Rican, Dominican, and other Latino authors working in the United States. Also includes never been published materials and Chicano folk tales.
Scholarly vs. Peer-reviewed
Scholarly journals contain articles written by, and addressed to, experts in a discipline. Scholarly journals present the research of experts in a field, although these journals also often carry opinion pieces or even advertisements unique to the field addressed by the journal. Publication cycles vary for scholarly journals, ranging from yearly to monthly but most frequently they are published bimonthly (every other month) or quarterly.

Peer-reviewed journals (also called refereed or juried journals) send submitted articles to one or more experts for review before deciding to publish them. This review process helps ensure that published articles reflect solid scholarship in a field. Most often, the experts reviewing an article make critical comments on the text, comments that the author must incorporate into the article before its publication.

While not all scholarly journals are peer-reviewed, it is usually safe to assume that a peer-reviewed journal is also scholarly.
Databases in Other Disciplines
Access to full text dissertations and theses from over 1,000 North American and European universities from 1997 to present.
ERIC is an Education database that indexes over 1,000 journals, research reports, technical reports, curriculum and teaching guides, conference papers, and dissertations.
SocAbs (Sociological Abstracts)
Includes full text journal articles and book reviews, and also provides abstracts of books, book chapters, dissertations, and conference papers.
Provides bibliographic coverage of current research focused on social work, human services, and related areas, including social welfare, social policy, and community development.
Welcome to your Chicana/o Studies Guide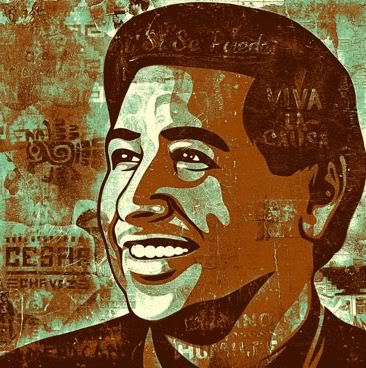 Cesar Chavez by Ernesto Yerena
Sandra Cisneros wrote...
"When you leave you must remember to come back for the others. A circle, understand? You will always be Esperanza. You will always be Mango Street. You can't erase what you know. You can't forget who you are."
From "The Three Sisters," in The House on Mango Street
CSU Union Catalog
Union Catalog
The CSU Union Catalog is the catalog for all 23 California State University libraries. Search for items we do not own and request them by clicking on the "JSBLink" icon. You will be notified via e-mail once your item is available for pick up at our library.
OneSearch Catalog
The OneSearch Catalog allows you to search for items at Broome Library and across the CSU system.
The Irene and Jorge Garcia Collection
Pochteca trading for quetzal feather. From the Códice Florentino (Florentine Codex).
The Irene and Jorge Garcia Collection
The Irene and Jorge Garcia Chicano Studies Collection focuses on the U.S. immigrant experience from all eras and examines disenfranchised groups. With over 4,000 titles, the collection emphasizes Chicano Studies as well as other ethnic studies groups such as Filipino, Armenian, Latin American, German, and Irish. The scope of the collection also includes Chicano popular fiction, rare codices, classic children's books in Spanish, and over 300 music titles from varying genres like traditional mariachi to contemporary Chilean techno music.
Browse the complete collection.
Browse the children's titles from the collection.
The Chicago Manual of Style
The Chicago Manual of Style
Official Chicago web resource
http://www.chicagomanualofstyle.org/tools_citationguide.html
At the John Spoor Broome Library...
PRINT Reference
The Chicago Manual of Style – 15th ed
REF PN 147 2003
ONLINE guide

Historical Newspapers
Hispanic American Newspapers, 1808 – 1980
Hispanic American Newspapers, 1808 – 1980 offers a diversity of unabridged voices, ranging from intellectuals and literary notables to politicians, union organizers and grassroots figures. Newspapers are bilingual and include many long scattered and forgotten titles published from the 19th century to present.
California Digital Newspaper Collection
This collection contains 55,935 issues from 1846 to present.
La Opinión Newspaper (Archives)
La Opinión Newspaper (1992-present)
Spanish-language daily newspaper from Los Angeles, CA
An independent, Spanish language newspaper published in Santa Paula, CA between 1927-1931.
Latin American Newspapers Series 1 (1805-1922)
Access newspapers from Latin American published between 1805-1922.
Latin American Newspapers Series 2 (1822-1922)
Access newspapers from Latin American published between 1822-1922.
Los Angeles Times Historical (1881-1985)
Includes indexing and full text content of the Los Angeles Times from 1881 through 1984.
New York Times Historical (1851-2002)
The full text of the New York Times from its first issue in 1851 to 2002.
Newspaper Archive includes more than 3,000 foreign, national and local newspapers that date back as far as the 1790's.
Early American Newspapers, 1690-1876
Early American Newspapers, Series 1, 1690-1876 offers 350,000 fully searchable issues from over 710 historical American newspapers. Focusing largely on the 18th and early 19th centuries.
Images, Media, & Oral History
The Bracero History Archive collects and makes available the oral histories and artifacts pertaining to the Bracero program, a guest worker initiative that spanned the years 1942-1964. Millions of Mexican agricultural workers crossed the border under the program to work in more than half of the states in America.
Braceros of Ventura County Archive
This digital collection includes oral histories and documents from local Braceros collected by CI students. Also included are images and documentation on the exhibit "Bittersweet Harvest: The Bracero Program 1942-1964," hosted by CI in 2010.
Calisphere's California Cultures - Hispanic Americans
Calisphere includes photographs, documents, graphics, and lesson plans. Images trace the history of Hispanic Americans in California from the Mission system and Californios into the 20th century: Mexican immigration into California, the farmworkers' labor struggles, and the Chicano Civil Rights movement and La Raza, which also resulted in an explosion of cultural art.
Farmworker Movement Documentation Project
Farmworker Movement Documentation Project features primary sources such as photos, music, oral history, poetry, manuscripts, and essays written by farmworker strikers and volunteers that document Cesar Chavez and his farmworker movement from 1962 to 1993.
Collection of oral histories with an emphasis on the El Paso-Ciudad Juarez region and the U.S.-Mexico border.
Irene and Jorge Garcia Chicano-a Studies Collection
This archival and digital collection contains Chicano-a self-published, printed materials ranging from 1906-1990 that address a range of political, social, economic, and religious issues. Materials include pamphlets, booklets, journals, and cartoons written in English or Spanish.
An interactive website that combines historical information, audio and visual materials, timelines, and primary and secondary sources to tell the stories of past and present Latina leaders.
Collection of oral histories from Mexican American social activists.
Southern California Chicano Cultural Collections
A community of collections that trace the historical, cultural, social, and political experiences of Chicana/os. The collections include Chicana/o and Latina/o art, historical newspapers, documents, and oral histories.
The Tejano Voices Project focuses on one hundred seventy six oral history interviews that reflect the history of the Tejano community as it pressed for an end to racial segregation in the state and access to political power in the post-WWII period.
Virtual Oral/Aural History Archive
Collection of Mexican American/Chicano oral histories.
VOCES: The U.S. Latino & Latina WWII Oral History Project
This project seeks to document and create a better awareness of the contributions of Latinos and Latinas of the WWII, Korean War, and Vietnam War generations.
What is a primary source?
"Primary sources are original records created at the time historical events occurred or well after events in the form of memoirs and oral histories. Primary sources may include letters, manuscripts, diaries, journals, newspapers, speeches, interviews, memoirs, documents produced by government agencies such as Congress or the Office of the President, photographs, audio recordings, moving pictures or video recordings, research data, and objects or artifacts such as works of art or ancient roads, buildings, tools, and weapons. These sources serve as the raw material to interpret the past, and when they are used along with previous interpretations by historians, they provide the resources necessary for historical research."
(Finding Primary Sources on the Web, ALA-RUSA, 2008)
Ventura County Research Library
Ventura County Museum & Library – Research Library Collections
The Library Collection includes over 140,000 items relating to Ventura County history. The Research Library is open to the public, however, the materials do not circulate.
100 E. Main St., Ventura, CA 93001
805.653.0323
Sanchez children pose in front of their home in Fillmore. c. 1921. Copies of original photos like this are avaiable at the library.